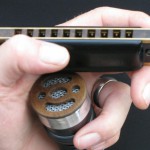 These hand-crafted harmonicas are high quality – precision hand made – customisations made from compressed bamboo.
This produces a harmonica with a comb that is as hard as nails, highly resilient to moisture, looks absolutely superb but most importantly feels comfortable in your hand and mouth. Other hard-wood harmonicas can be commissioned on request.
Styles vary (see photos) from oversized and rounded – fitting your hand like a glove – to a neat squared off comb that replaces the existing one producing a quality and unique instrument with a comfy feel and good looks.
The benefit of customisation goes beyond looks in that the harp is a LOT more comfortable to play with the holes slighted edged off and the rounded wood in your hand.
A range of colour tones – from natural through to very dark coffee coloured allows you to differentiate between your different keys through colour and style of the custom harps. In other words – it's an excellent idea to have a range of different custom harps for different keys within your set!
When commissioning a customised harmonica – why not consider buying a matching silverfish harmonica microphone. This can be made especially for you in the same wood as your harp – at no additional cost to the basic marked price of the microphone! Just let me know your preference at the time of purchase.
Your basket is currently empty.