Customise your Silver Bullet harmonica microphones
Microphones are supplied in a variety of styles that provide you with a choice of customised look and as either a bullet mic with adjustable gain or as a very small bullet microphone with no volume control.
Microphones are available in a range of custom coloured fascia's (or just go for the lovely hard-wood finish) and available in two sizes:
Midi – small bullet mic with no gain | fits mic-stand
Standard – bullet with volume/gain control | fits mic-stand
Impedance matching
The 4KΩ and dynamic microphone perform well on most amps with high impedance sockets and when used with PA systems. This therefore represent a safe bet for a Silver Bullet if you want to avoid getting technical on your impedance matching! Sub-optimal impedance matching (ideally amp input should be 10x that of the source mic') may be compensated for with adjustment of microphone gain and amp settings or use of a pre-amplifier.
What kind of Silver Bullet Harmonica Microphone should I buy?
The choice of harmonica microphone may be a little daunting. If you are struggling to select the right harmonica microphone or are unclear on the difference between the versions of Silver Bullet available (different impedance: medium or high-Z) or even what impedance is about (a measurement of the resistance of the microphone – divided into low, medium and high measured in ohms or Ω) don't worry! Hopefully this summary of the Silver Bullet range will help you understand their different characteristics and help you select a mic that is best for you.
If you don't know the specification of your amplifier or can't be bothered with that sort of thing – both the 4KΩ and 40KΩ dynamic microphones perform exceptionally well on most amps and when used with PA systems. Although perfect impedance matching is idea, sub-optimal impedance matching may be compensated for with adjustment of microphone gain and amp settings or use of a pre-amplifier. Of course to get the very best out of your microphone in terms of volume, sound quality and performance you ideally need to ensure that the microphone you plug into your amplifier is matched to an input that is ideally about 10x that of your microphone. If in doubt please contact Rick for advice – who is always happy to advise.
Reviews and sound samples
Review by Ben Hewlett, United Kingdom. Bens name and terrific harmonica playing will likely be familiar to many of you! Ben compares the Silver Bullets which he likes very much and recommends.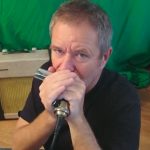 Check out his video review comparing the 4KΩ (clean) and 40KΩ (dirty) Silver Bullets – which includes some cool playing showcasing the lovely tone of both these microphones when played by an expert!.
Check out a comparison of some of these handmade harmonica microphones by Tomlin Leckie in his independent review: gear review.
Check out Jakub Svoboda's review of Silverfish Ceramic Bullet, Jakub is the harmonica player in the Czech blues garage band "The Weathermakers" and recons the silver bullet harmonica mic has taken his playing to "another level".
Check out this great independent review by Tomlin Leckie of the Silverfish Bullet Ceramic Microphone alongside his other top favourite harp mics.
Check out Tomlin's gear review and sound sample of the Silverfish Ceramic – Harmonica Bullet Microphone.
Check out a sound sample and video review of the Low-Z 400Ω dynamic harmonica microphone (the sound at Low-Z on the switchable mic) at: Review
Check out Tim's Douthit's (harmonica player from MI, US) independent review and sound sample of the Dynamic 40K-Z Silver Bullet comparing it to the classic Green Bullet – CLICK HERE – for the video review and of the 40K-Z Dynamic Silver Bullet.
For more see Reviews | Sound Samples
Features
Full bodied tone with harmonic overtones
Great feedback rejection
Lightweight/small bullet
Robust industrial-feel construction for rigor of touring
Reliable dynamic element
Choice of clean or dirty-sounding microphones
Choice of impedance
Choice of gain or no gain bullets
Steel mesh grille with choice of fascia
Two-stage mesh and foam to reduce breath noise
Shock-mount design reduces handling noise
Rubber sleeve to improve hand-seal
Quality electronic components and connector
Holster-style case
One year guarantee