Dynamic low-Z mics
Silver Bullet Dynamic – low impedance harmonica microphones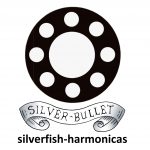 Dynamic Low-Z impedance
Silver Bullet | Dynamic low-Z provide a microphone with a strong, rich and full sound across the dynamic range but with headroom for crunch-distortion effects. Great for practice and small venue performance with scope for impedance conversion and/or pre-amp boost for optimal power and performance
Dynamic 400Ω – Key features: low-Z | wide dynamic range | high sensitivity | high fidelity | harmonica and vocal | lower head room to distortion | match to a high impedance amplifier | pre-amplification and or impedance matching for volume boost
The Silver Bullet | Dynamic low-Z 400Ω
The Silver Bullet |Dynamic Low-Z 400Ω is a powerful harmonica microphone with a strong rich and full sound. Adapted from an acoustic dynamic element this is a flexible microphone with a really "hot" signal that is fat – packed with full harmonic content and great bass. The mic has perfect mid-sound without treble – with clear intonation. A high-fidelity sound that can be used as both a powerful performance harp microphone and a vocal mic – perfect for blues and country singers.
The tailored dynamic element provides some headroom to enable you to drive the mic' and produce a classic "blues" harmonica sound – with a little help from your amp. The dynamic element has proven reliability and this ruggedly constructed mic' is perfect for practice or gigging – especially mixed (harp/vocal) performance.
The dynamic medium-Z mic has a double foam and mesh build to avoid breath sound and enhancing vocal-sound quality when pronouncing plosive consonants. However, the mic can be upgraded for greater vocal performance with a separately purchased foam pop-filter/windscreen for effective reduction of wind noise and "popping" which is perfect for outdoor performance.
Like all silver bullets, the dynamic medium-Z mic can be stand-mounted and fits snugly in most small (fitting a 30mm barrel) microphone holders.
See link for vocal rig including: foam pop-filter/windscreen, enlarged mic case and rubber microphone holder
You my like to check out a sound sample and video review of this superb new harmonica microphone at: Review
This silverfish harp mic' is an awesome, powerful little microphone with technology and craftsmanship that delivers a compact design with many of the features a harmonica player wants and needs and is very technique sensitive.
Depending on your rig the use of an impedance converter is recommended for maximising output and significantly boosting the power output of these low impedance dynamic microphones. For example using a Shure A85F "low to high impedance microphone-matching transformer" will provide an additional 24 dB of signal gain. Note that this will also require a mono (female) to XLR (male) converter plug to link to your microphone lead and couple (line 1 and 3 to earth) to the in-line transformer. This or similar impedance conversion is really recommended as it releases the beast in this lovely dynamic mics.
Features
Volume control
Full bodied tone with harmonic overtones and high fidelity
Great feedback rejection
Lightweight/small bullet
Robust construction for rigor of touring
Choice of gain or no gain control
Steel mesh grille with choice of fascia
Two-stage mesh & foam to reduce breath noise
Shock-mount design reduces handling noise
Rubber sleeve to improve hand-seal
Quality electronic components and connector
Holster-style case
One year guarantee
Specifications
Type: rugged dynamic
Functionality: performance harmonica and vocal
Impedance: Low 400Ω, unbalanced
Polar patter: uni-directional
Connector: 1/4″ (6.3mm) jack
1/4″ (6.3mm) jack-plug socket
Case: anodised alloy
Showing all 10 results