Standard-bullet
Standard silver bullet harmonica microphone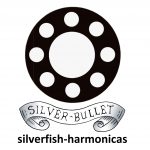 Silver Bullet – "Standard" with gain
The Silver Bullet – Standard [with gain control] is one of the smallest and lightest harmonica microphones for blues and chromatic harp players.
The microphone's size and shape provides a durable design which is smaller than a Marine Band and fits neatly in your hand and pocket. It is a perfect size for getting a really good seal for amplified harmonica playing which is much easier than with a larger bullet mic. Another nice detail is the rubber around the head of the mic' which serves two purposes: firstly it means that the harmonica isn't going slip out of your hands when they get sweaty (a real issue!); secondly it helps achieve a consistent airtight seal around the harmonica and microphone to get the biggest "tone" you possibly can.
The mic' is very light in your hand and is easy to hold with a harmonica while performing so you don't get hand cramp after a long practice or performance. The volume knob is small with a firm movement which means you are not going to accidentally twist it in the middle of a particularly enthusiastic harmonica solo. The sensitive volume control provides you with excellent control to boost your output or control feedback.
Features:
Volume control
Choice of low, medium, high or variable impedance
Full bodied tone with harmonic overtones
Great feedback rejection
Lightweight/small bullet
Robust construction for rigor of touring
Steel mesh grille with various fascia options
Two-stage mesh & foam to reduce breath noise
Shock-mount design reduces handling noise
Rubber sleeve to improve hand-seal
Quality electronic components and connector
Holster-style case
This silverfish harp mic' is truly an awesome microphone with technology and craftsmanship that delivers a really compact design and is very technique sensitive.
See listings for technical specifications.
Showing 1–12 of 15 results