Harmonica Microphone Shop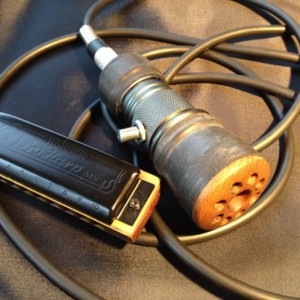 Silver Bullet – "standard" with gain control
Silver Bullet Harmonica Microphones
Silverfish Bullets are small artisan-quality handmade harmonica microphones. The microphones are rich in tone and high in performance with many of the features that a harmonica player requires. Perfect for practice or gigging the mics have been developed specifically for harmonica and their heavy duty compact design and reliability stands up to the rigor of touring!
There are three ranges of Silver Bullet microphones:

Dynamic Low-Z
Dynamic Medium-Z
Ceramic High-Z
All are specifically for amplified harmonica playing and suit blues and chromatic harp. The dynamic medium-Z can also be used for vocals. Microphones are supplied in a variety of styles that provide you with a choice of customised look and as either a bullet mic with adjustable gain or as a very small bullet microphone with no volume control. Microphones are therefore available in three sizes:
Mini – very small bullet mic with no gain
Midi – small bullet mic with no gain | fits mic-stand/slightly more to hold [than the Mini] when performing
Standard – bullet with volume control |fits mic-stand

Silver Bullet – "midi" without volume control

Microphones are available in a range of custom styles or just go for the lovely hard-wood finish.

Features

Full bodied tone with harmonic overtones
Great feedback rejection
Lightweight/small bullet
Robust construction for rigor of touring
Choice of dynamic or ceramic element
Choice of gain or no gain bullets
Choice of size (mini, midi or standard bullet)
Steel mesh grille with choice of fascia
Two-stage mesh & foam to reduce breath noise
Shock-mount design reduces handling noise
Rubber sleeve to improve hand-seal
Quality electronic components and connector
Holster-style case
One year guarantee
The dynamic and ceramic range are both truly awesome harmonica mics with technology and craftsmanship that delivers a compact design and are both very technique sensitive with top-of-the range features.
Reviews
Check out a comparison of some of these handmade harmonica microphones by Tomlin Leckie in his independent review: gear review.
Check out the review of Silverfish Bullet Microphones and sound samples
Check out Jakub Svoboda's review of Silverfish Ceramic Bullet, Jakub is the harmonica player in the Czech blues garage band "The Weathermakers" and recons the silver bullet harmonica mic has taken his playing to "another level".
Check out this great independent review by Tomlin Leckie of the Silverfish Bullet Ceramic Microphone alongside his other top favourite harp mics.
Check out Tomlin's gear review and sound sample of the Silverfish Ceramic – Harmonica Bullet Microphone.
Check out a sound sample and video review of the superb new Medium-Z Dynamic harmonica microphone at: Review
Harmonica Microphone Shop
Showing 1–12 of 22 results