Harmonica Microphone Shop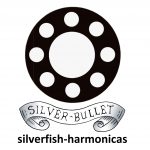 Silver Bullets are small artisan-quality handmade harmonica microphones. The microphones are rich in tone and high in performance with many of the features that a harmonica player requires. Perfect for practice or gigging the mics have been developed specifically for harmonica and their heavy duty compact design and reliability stands up to the rigor of touring!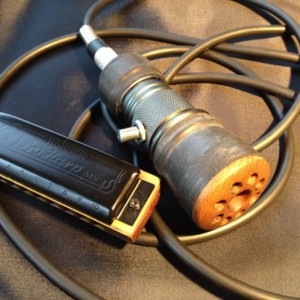 Silver Bullet – "standard" with gain control
Silver Bullet Range
Please Note: Recent website difficulties have been encountered. If you have any difficulty ordering a microphone please email Rick via the contact form submission [click here] Apologies for the inconvenience
The ranges of Silver Bullet microphones reflect difference output impedance to match your needs and amplifier rig. The range of Silver Bullets have different sensitivities and sound characteristic although they all sound terrific with amplified harmonica with the power and scope for driving the mic for distortion effect. The following summary of the Silver Bullets and their characteristics with hopefully help you decide which is best for you and your rig.
For the cleanest sound (and distortion at high gain) – choose the 4KΩ dynamic microphone
For a relatively clean sound (and heavier distortion at high gain) – choose the 40KΩ dynamic microphone
For a combination of very clean (high fidelity vocal or harmonica) sound that can be changed to relatively clean sound to heavier distortion (at high gain) – choose the 400-40KΩ switchable dynamic microphone
Features
Full bodied tone with harmonic overtones
Great feedback rejection
Lightweight/small bullet
Robust construction for rigor of touring
Reliable dynamic element
Choice of impedance
Choice of gain or no gain bullets
Choice of size (midi or standard bullet)
Steel mesh grille with choice of fascia
Two-stage mesh & foam to reduce breath noise
Shock-mount design reduces handling noise
Rubber sleeve to improve hand-seal
Quality electronic components and connector
Holster-style case
One year guarantee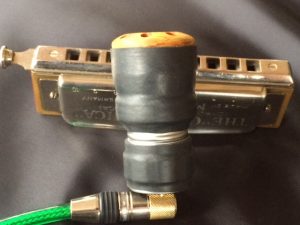 Silver Bullet – "midi" without volume control
Showing all 13 results