Harmonica Microphone Shop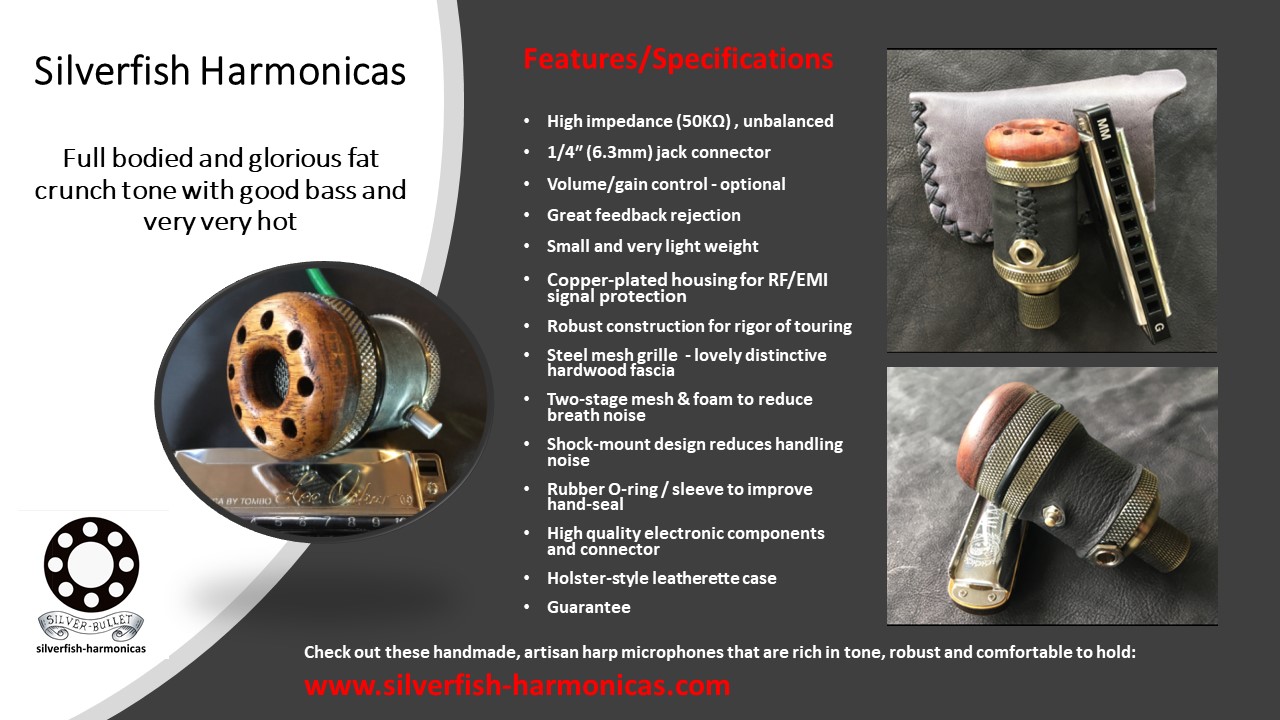 Customer Support Notice to: "NEIL KINSLEY" – DELIVERY IS OK FOR UK BEFORE 31st AUGUST (Your email appears not to be working!)
Silverfish Harmonica Mics
Silver Bullets are handmade, artisan harp microphones that are rich in tone, robust and comfortable to hold for long periods of practice or gigging. Used by an increasing number of discerning harmonica players at all levels who appreciate their full rich sound, unique rugged heavy-duty construction yet light weight small design. Silverfish harmonica mics provide musicians with an alternative, unique artisan microphone that has proven outstanding reliability to stand up to the rigor of practice and touring! A high quality yet affordable performance harmonica microphone that will become a "keeper" as part of your amplified harmonica rig. 
There is a choice of either dirty or cleaner sounding Silver Bullet harp mics. The two contrasting dynamic elements also reflect different output impedance (Z) and have differing amplified sound characteristics. They will both match most amplifier or PA rigs that have a high impedance input-socket.
Silverfish harp mics are available in two basic designs: the "Standard Harp Mic" which is modelled after the vintage mics featuring a terminal volume control and angled base-mounted jack-socket with a low form-factor; and the a range of mics with a terminal jack-socket and minimalistic side-mounted volume control. Both designs feel good in your hands, are enjoyable to use and easy to cup and hold – even with sweaty hands. These mics look extremely cool on stage when, as a harp player, you may be the centre off attention!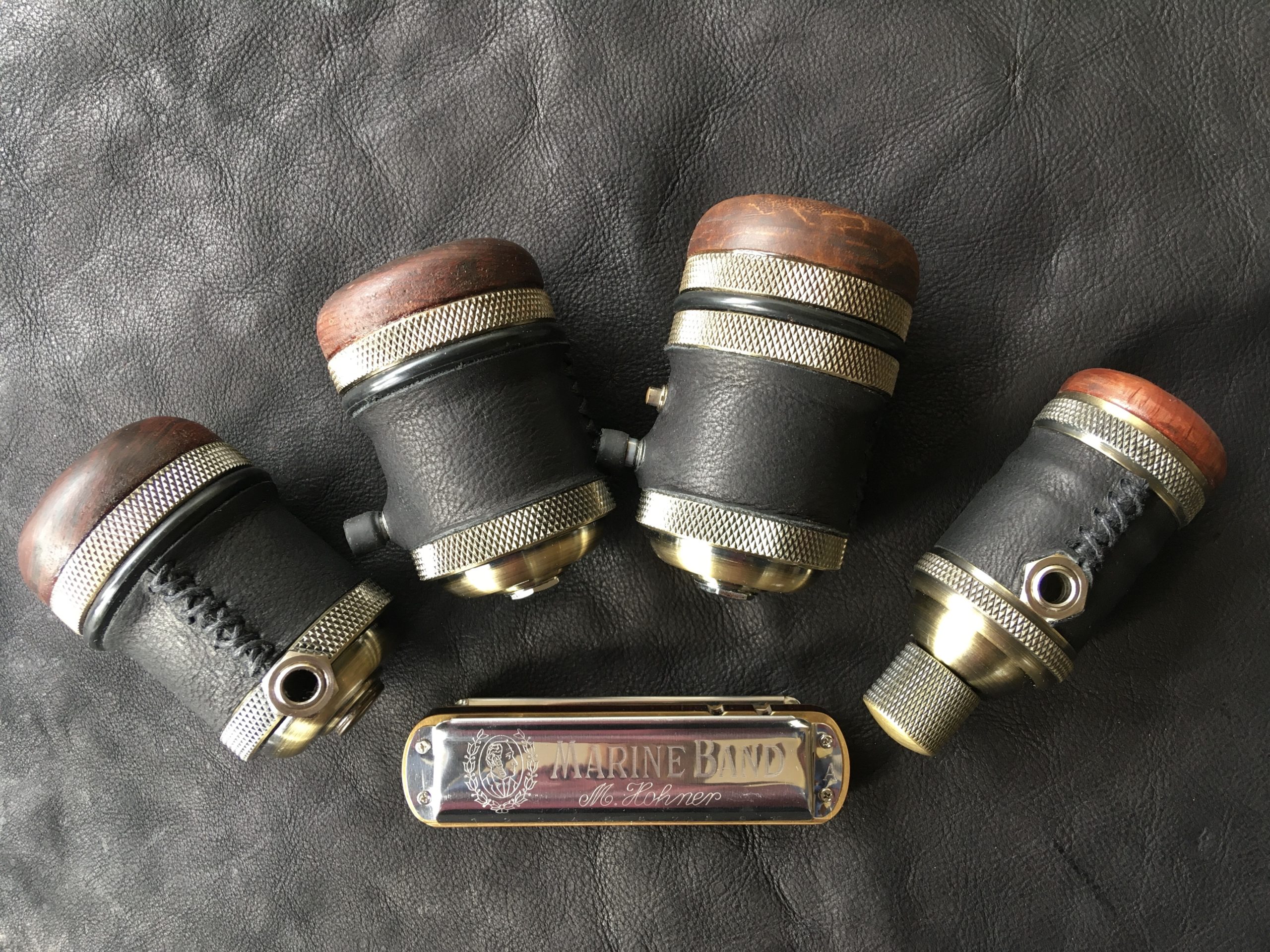 Silver Bullets | Harp Mics
Keith Parker reviews Silverfish Harp Mics in the Harmonica World mag (Aug-Sept 2020): " I was expecting a sound reminiscent of a Shure Green Bullet, but no, WOW! I was not expecting this – a glorious fat crunch with good bass and very very hot, I couldn't put it down I had to keep playing and I even had to turn it down a bit and you don't hear electric harp players say that very often. I know I shouldn't compare mics and players from the past – but just think Paul Butterfield and the Pistol 545"
Each genre of mic (clean or dirty) offer different performance characteristics but both deliver a rich, full sound that responds to cupping and pressure changes and are technique-sensitive: 
For a cleaner sounding harmonica mic – choose the 4KΩ dynamic microphone. This is a microphone for the  harmonica player who is looking for a cleaner sound – providing a  mic that is rich in tone with more top end – resulting in crisper higher end-frequencies. This is ideal for playing cleaner sounding blues, and especially suits playing melody, country, funk, reggae, soul or chromatic harmonica.
For a dirty (Low-Fi) distorted-blues sounding harmonica mic – choose the 50KΩ dynamic microphone. This is a very hot high-Z  mic for the serious harmonica blues player – providing  a powerful and dirty low-fi sound that is full bodied with a glorious fat crunch tone.
Features:
 Dynamic capsule – full, warm sound that responds to cupping and pressure changes
Great feedback rejection
Quality components and build
Rugged all metal housing with leather finish and hardwood fascia
Choice of clean or dirty sounding mic
Two-stage mesh & foam to reduce breath noise
Shock-mount design reduces handling noise
Rubber o-ring /sleeve to improve hand-seal
Contents:
Dynamic Silver Bullet microphone
Leatherette pouch
User instructions and warranty
For the "High-Z dirty/Lo-Fi" a microphone  with "no volume control" is offered as an option. This is particularly for the pro' players who prefer to leave the balance to sound engineers at initial EQ and sound-check. 
Silverfish Harmonicas rely on word-of-mouth rather than expensive advertising in order to keep the price down for harmonica players who need a quality but affordable professional-level harp mic for practice or performance. Microphones are sold exclusively online with great pre- and after-sale customer support.
Showing all 16 results