Dynamic medium-Z mics
Silver Bullet Dynamic – medium impedance harmonica microphones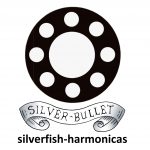 Dynamic Medium-Z impedance
Silver Bullet | Dynamic medium-Z provide a more powerful microphone with a strong, rich and full sound across the dynamic range but with headroom for crunch-distortion effects. Headroom slightly higher, and sensitivity slightly lower than high-z
Medium-Z Range/Features:
Dynamic 4,000Ω (4KΩ): medium-Z | widest dynamic range | sensitivity lower than 40KΩ but higher than 40Ω | higher head room to distortion | match to high impedance amplifier | gain control to avoid clipping distortion for clean sound | turn up gain for overload distortion
The Silver Bullet | Dynamic Medium-Z 4KΩ
The Silver Bullet | Dynamic Medium-Z 4KΩ This microphone produces a lovely rich tone with full harmonic content and great bass. This element has the widest frequency response and dynamic range of the Silver Bullets with a slightly lower sensitivity and as a result a higher headroom to distortion. This produces clear and rich low, mid and high sound without excessive treble. Alternatively, if you like crunch distortion – turn up the gain to drive the mic' and achieve a crunchier sound when used in conjunction with reverb – producing a classic "blues" harmonica sound. Dynamic microphones have proven reliability and are ideal for practice or gigging – blues, country or chromatic harmonica performance. This mic needs to be matched to a high (=/>40KΩ or =/>0.04MΩ) impedance sockets on your amplifier.
This medium impedance silver bullets is an awesome little microphone with technology and craftsmanship that delivers a compact design with many of the features a harmonica player wants and needs and is very technique sensitive.
Note on impedance matching: The 4KΩ and dynamic microphone perform well on most amps with high impedance sockets and when used with PA systems. This therefore represent a safe bet for a Silver Bullet if you want to avoid getting technical on your impedance matching! Sub-optimal impedance matching (ideally amp input should be 10x that of the source mic') may be compensated for with adjustment of microphone gain and amp settings or use of a pre-amplifier.
Features
Volume control
Full bodied tone with harmonic overtones and high fidelity
Great feedback rejection
Lightweight/small bullet
Robust construction for rigor of touring
Choice of gain or no gain control (on ceramic)
Steel mesh grille with choice of fascia
Two-stage mesh & foam to reduce breath noise
Shock-mount design reduces handling noise
Rubber sleeve to improve hand-seal
Quality electronic components and connector
Holster-style case
One year guarantee
Specifications
Type: durable ceramic or dynamic
Functionality: performance harmonica
Impedance: Medium 4KΩ, unbalanced
Sensitivity: -70.4dB
Polar patter: dynamic omni-directional
Connector: 1/4″ (6.3mm) jack
1/4″ (6.3mm) jack-plug socket
Case: anodised alloy
Showing all 5 results