Dynamic medium-Z microphones
Silver Bullet Dynamic – medium impedance harmonica microphones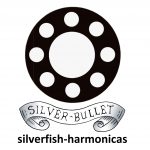 Dynamic Medium-Z impedance
Silver Bullet | Dynamic medium-Z provide a more powerful microphone with a strong, rich and full sound across the dynamic range but with headroom for crunch-distortion effects. Headroom slightly higher, and sensitivity slightly lower than high-z
Medium-Z Range/Features:
Dynamic 4,000Ω (4KΩ): medium-Z | widest dynamic range | sensitivity slightly lower than 40KΩ | higher head room to distortion | match to high impedance amplifier | gain control to avoid clipping distortion for clean sound | turn up gain for overload distortion
The Silver Bullet | Dynamic Medium-Z 4KΩ
The Silver Bullet | Dynamic Medium-Z 4KΩ This microphone produces a lovely rich tone with full harmonic content and great bass. This element has the widest frequency response and dynamic range of the Silver Bullets with a slightly lower sensitivity and as a result a higher headroom to distortion. This produces clear and rich low, mid and high sound without excessive treble. Alternatively, if you like crunch distortion – turn up the gain to drive the mic' and achieve a crunchier sound when used in conjunction with reverb – producing a classic "blues" harmonica sound. This microphone's "natural" tone is considerably cleaner than the 40KΩ dynamic mic', however it can be easily pushed into dirty ranges by cranking gain on both amplifier and microphone. The 4KΩ dynamic mic' is therefore a great choice for flexibility of sound – as it performs exceptionally well with both acoustic/folk and dirty blues amplified sound. Dynamic microphones have proven reliability and are ideal for practice or gigging – blues, country or chromatic harmonica performance. This mic needs to be matched to a high (=/>40KΩ or =/>0.04MΩ) impedance sockets on your amplifier.
This medium impedance silver bullets is an awesome little microphone with technology and craftsmanship that delivers a compact design with many of the features a harmonica player wants and needs and is very technique sensitive.
Note on impedance matching: The 4KΩ and dynamic microphone perform well on most amps with high impedance sockets and when used with PA systems. This therefore represent a safe bet for a Silver Bullet if you want to avoid getting technical on your impedance matching! Sub-optimal impedance matching (ideally amp input should be 10x that of the source mic') may be compensated for with adjustment of microphone gain and amp settings or use of a pre-amplifier.
Features
Volume control
Full bodied tone with harmonic overtones and high fidelity
Great feedback rejection
Lightweight/small bullet
Robust construction for rigor of touring
Choice of gain or no gain control (on ceramic)
Steel mesh grille with choice of fascia
Two-stage mesh & foam to reduce breath noise
Shock-mount design reduces handling noise
Rubber sleeve to improve hand-seal
Quality electronic components and connector
Holster-style case
One year guarantee
Specifications
Type: durable ceramic or dynamic
Functionality: performance harmonica
Impedance: Medium 4KΩ, unbalanced
Sensitivity: -65dB
Polar patter: dynamic omni-directional
Connector: 1/4″ (6.3mm) jack
1/4″ (6.3mm) jack-plug socket
Case: anodised alloy
Showing all 6 results