Harmonica Microphone Shop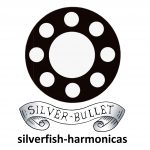 FREE LEATHER CASE OFFER – FOR LIMITED PERIOD – No code required at checkout  (rubber lined leather case provided in place of standard neoprene case when you buy any Silver Bullet microphone)
Business as Usual! I hope you, your families and fiends are safe and well in the current situation.  Silverfish Harmonicas are still open for online sales and shipping of orders with trading continuing almost as normal during the Covid-19 pandemic crisis. However there is a slightly extended lead-time of 2-7 days dispatch delay due to a once-weekly shipping arrangement for all orders. Just as a precaution the microphones and their cases are disinfected prior to packaging for complete piece of mind.
Thank you for your patience during this difficult period – normal trading arrangements will return as soon as possible! Apologies for any inconvenience that may be caused.
Silverfish Harmonicas' "Silver Bullets" are small artisan-quality handmade harmonica microphones. A range of high quality performance microphones that are rich in tone with many of the features that a harmonica player requires. Perfect for practice or gigging the mics have been developed specifically for harmonica and now commonly used by discerning harp players at all levels. Their heavy duty compact design and construction feels good in your hands using high quality components and durable materials to provide outstanding reliability to stand up to the rigor of touring! Silverfish harmonicas aim to provide an affordable and alternative artisan mic that is a "keeper" as part of your amplified harmonica rig.
Silverfish Harmonicas rely on word-of-mouth rather than expensive advertising in order to keep the price down for harmonica players who need a quality but affordable professional-level harp mic for practice or performance. Microphones are sold exclusively online with great pre- and after-sale and customer support.
Harmonica Microphones
There are two basic ranges of Silver Bullet harmonica microphone to provide a choice of either dirty or cleaner sounding amplified sound. These also reflect difference output impedance (Z) that will match with most amplifier or PA rigs: medium-Z (clean sounding) and high-Z Lo-Fi (dirty sounding). These two types of Silver Bullet are offered in a range of styles to provide a choice of mic of varying design and size. All deliver a rich, full and warm sound that responds to cupping and pressure changes and are technique-sensitive.
In summary:
For a cleaner sounding harmonica mic – choose the 4KΩ dynamic microphone
For a dirty (Low-Fi) distorted-blues sounding harmonica mic – choose the 50KΩ dynamic microphone
Full bodied tone with harmonic overtones
Warm sound that responds to cupping and pressure changes
Great feedback rejection
Lightweight/small bullet
Robust construction for rigor of touring
Reliable dynamic element
Choice of clean or dirty sounding mic
Steel mesh grille with choice of fascia
Two-stage mesh & foam to reduce breath noise
Shock-mount design reduces handling noise
Rubber sleeve to improve hand-seal
Quality electronic components
Holster-style rubber case
Smart leather finish on Special mics
One year guarantee

Showing all 12 results